3/4 Heavy Duty Industrial Grade Filter Regulator Coalescing Dryer Sys Auto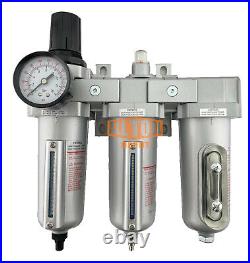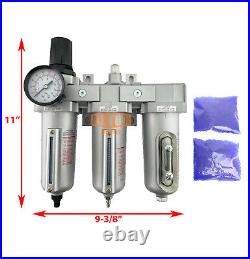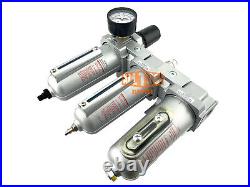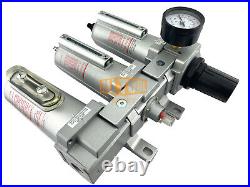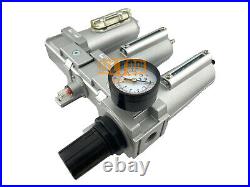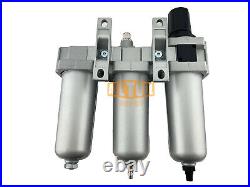 4 Stage Heavy Duty High Flow Air Clean System (FRFLM) Air Pressure Regulator, Pre-Filter, Micro-Filter, Desiccant Dryer (AUTO DRAIN). PLEASE NOTE: 3/4" NPT MEASURES 1.050" OUTSIDE THREAD DIAMETER IN INCHES. 3/4 NPT, Industrial Rated 3 Stage Combo Water Filter/ Pressure Regulator/ Coalescing Filter/ Desiccant Dryer System, With Wall Mounting Bracket And Internal Float Drain (AUTO DRAIN) STAGE 1. This Unit Will Regulator Your Incoming And Outgoing Air Pressure While Removing Moisture Water, Moisture Vapor And Oil From Your Compressed Air Lines, Then Finally Drying Out The Super Clean Air With An In-Line Desiccant Air Dryer.
STAGE 1-2: Water Trap Filter / Pressure Regulator. Equipped With 5 Micron Element To Remove 95% Of The Initial Moisture And Debris From Your Compressed Air Line. Regulator Adjusts Pressure From 7 To 175 PSI. 5oz Metal Bowl With Visible Sight Glass. STAGE 3: Coalescing Filter Also Known As Oil Removing Filter Armed With A 0.01 Micron Element That Removes 99.98% Of Moisture, Moisture Vapor And Oil That Made Its Way Past Your Stage 1 Filter.
Red Indicator Pops Up When Time For Filter Change. STAGE 4: Desiccant Air Dryer, Dries Out Your Super Clean Air Before Going Downstream To Your Air Tools. Uses 5oz Desiccant Beads In The Bowl. Beads Turn From Blue To Pink When Time To Change. Unit Comes With 2 Bags Desiccant Beads.
Sight Glass on metal bowl to determine liquid levels. :::PLEASE NOTE:::: THE ABSOLUTE BEST WAY TO SEPARATE WATER FROM YOUR COMPRESSED AIR LINES STARTS WITH THE COMPRESSED AIR LINES THEMSELVES.
ALWAYS FORCE AIR TO CLIMB VERTICALLY WHILE POOLING WATER IS CARRIED DOWNWARDS BY GRAVITY. USUALLY INTO SOME SORT OF DRAIN OR BALL VALVE THAT IS DRAINED OUT PERIODICALLY. COMPRESSED AIR DRYERS REDUCE THE QUANTITY OF WATER VAPOR, LIQUID WATER, HYDROCARBON, AND HYDROCARBON VAPOR IN COMPRESSED AIR.
MOISTURE IN COMPRESSED AIR IS HARMFUL. WATER DAMAGES A COMPRESSED AIR SYSTEM SEVERAL WAYS. THE RESULT IS LOWER PRODUCTIVITY, INCREASED MAINTENANCE, AND HIGHER OPERATING COSTS. YOU CAN MINIMIZE THE DAMAGE WET COMPRESSED AIR CAN INFLICT ON YOUR SYSTEM BY DRYING IT.
Using this filter in your air system will provide clean, dry air to rest of your line and can extend the life of your tools and compressor accessories. This is recommended to those that are running a plasma cutter, Paint Spray Gun, Control systems, Sandblast, fluids. This system protect your equipment from dust, dirt, oil and water. Dust will wear down your equipment like the air motor in grinders, pneumatic actuators and it can make pneumatic control valves get stuck. Especially when the dirt and dust is combined with oil (which is often the case with compressors), a sticky mess can form inside valves, motors and other compressed air equipment. Getting moisture in your air lines and tools can be a costly mistake and cause a lot of damage to delicate tools, this filtration system allows you the peace of mind to work without worry!
3 Item must be in brand new condition and return by using original package. We will reply as soon as the message is received. For returning customer, please follow us to get more discount from our website. ALL Tool Depot is the leading provider for industrial and home tools throughout North America. We are able to service all major brands.
All of our service techs are also fully trained in the operation of the tools that we sell and service. So if you are new to our tools or have any questions please give us a call.
WELCOME TO B2B ALL TOOL DEPOT. Enjoy the exceptional quality in all our products. AIR FILTER SYSTEM View our Product. MAGNETIC SWITCH View our Product. PRESSURE SWITCH View our Product.
PRESSURE GAUGE View our Product. DRYWALL STILTS View our Product.