5/16 1000 ft Bungee Shock Cord White With Black Tracer Marine Grade Heavy Duty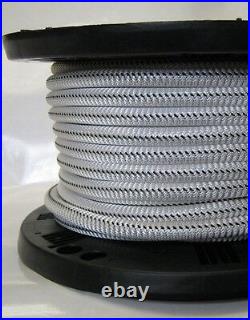 CobraRope bungee shock cord has excellent quality UV resistant, marine grade stretch cord for pulleys, rigging etc. Our stretch cord allows normally better than 100% elongation and recovery making it ideal for marine, tarp, tent, trampoline, glider and industrial applications. The rubber core of our bungee shock cord is also vulcanized.
Long lasting marine grade polyester jacket. Jacket ribbed for better gripping and knotting. 5/16 or 8 MM typically used in securing standard groundsheets and tarpaulins. Also used on caravans, boats, trailers, motorbikes etc. Lots of other uses for indoors & outdoors.
Marine and sailing boats, canoes, kayaks and other small boats. Car, boat and trailer covers. The bungee cord is also commonly known as shock cord or stretch cord.