ANCEL HD3600 Heavy Duty Truck Scanner OE-level Full System Diagnostic Tool DPF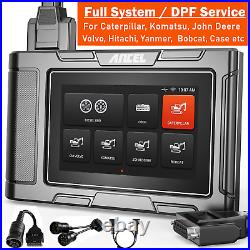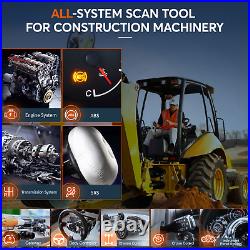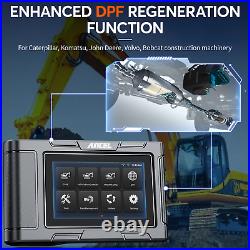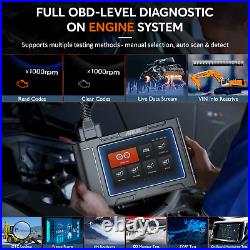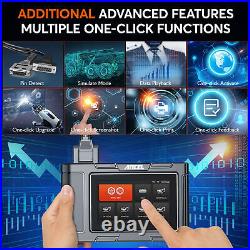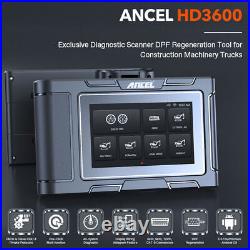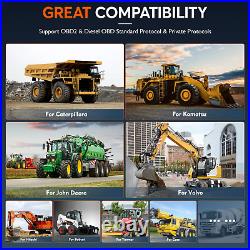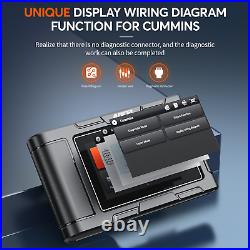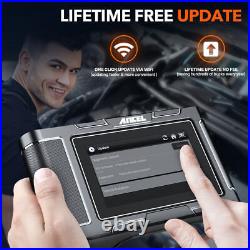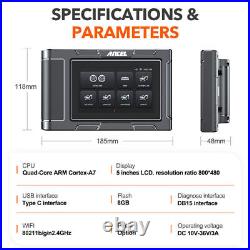 ANCEL HD3600 Heavy Duty Scanner supports all major construction machinery vehicle models that conform to standard protocols SAE J1939, SAE J1708, SAE J1850 PWM, SAE J1850 VPW, ISO 14230-4, ISO 9141-2, ISO 15765-4 and ISO 27145-4 and CDL private protocol. , OE -level diagnosis for Caterpillar, Komatsu, John Deere, Volvo, Hitachi, Bobcat, Yanmar, Case. Moreover, it supports not only standard diesel OBD protocols (including the latest J27145). Also support other HD trucks, including Cummings, Detroit, Maxxforce, Caterpillar, Freightliner, International, Kenworth, John Deere, Peterbilt, Sterling, Mack, Paccar, Westernstar, ERF, Foden, Seddon-Atkinson, Iveco, SISU, STEYR, ISUZU, etc to read and clear codes and view live data for OBD diagnostics, as well as engine system diagnotics for SCANIA, MAN, HINO, FUSO, UD and DAF. Obviously, it covers almost most of.
OBDII/EOBD vehicles for engine check. And has greater compatibility than other truck scanner on the market. On construction equipment vehicles and trucks. When the warning lights of the engine, ABS, airbag, transmission or other system flash, HD3600 can help you easily know how serious the fault is.
It also do OBD test, such as reading codes, clearing codes, reviewing live data, retrieving vehicle information, etc. OEM-level DPF service function for Caterpillar, John Deere, Volvo, Komatsu, Bobcat. Forced regeneration is performed, including DPF regeneration, DPF reset, BlueTec, forced DPR regeneration, DPR reset, differential pressure test, DPD forced regeneration etc.
Helps you better understand and solve the exhaust aftertreatment system problems, gets better MPG, throttle response, longer DPF life, less downtime and frequent regeneration (passive). Unique Display Wiring Diagram Function. Allows you to diagnose cummins engine through jumpers or jumper boxes, eliminating the trouble of damaged and lost diagnostic cables. Equipped With a fast running Android operating system and quad-core CPU processor, built-in 1GB RAM and 8GB Flash, allowing you to easily operate it on the 800480 high-definition display.
2.4GHz WIFI allows you to upgrade software wirelessly. Both English and Spanish are supported. ANCEL HD3600 diesel scanner can not only support full system scanning of construction machinery vehicles conforming to standard diesel OBD protocol, such as. Engine, ABS/EBS, transmission, body controller, chassis controller, instrument panel system, cruise control, gateway, etc.
Also supports all system diagnostics for heavy duty trucks. Meet the diagnostic needs of a variety of models!
Retrieve ECU Information: Read and display the control system module information detected from ECU. Read Fault Codes: Read the fault code information retrieved from the vehicle system module. Erase Fault Codes: Clear the fault code and freeze frame data retrieved from the vehicle system module. Review Live Data: Read and display the real-time operation parameters of the current system module.
Graphic: View the real-time operating parameters of the unit in the data stream waveform graph mode, and select [List] to return to the numerical display state. Compare: Compare the data steam.
Select a saved data file of the same vehicle type in the pop-up dialog box, and select [OK] to return, and then an additional column "CMPR values" in the data stream interface. Save: Save the current data stream (for subsequent data stream comparison). Superior compatibility for 12v & 24v construction machinery vehicles and heavy duty trucks. Construction, marine, agricultural, and other construction equipment and machinery that meet standard diesel OBD protocols. Excavators, dozers, scrapers, loaders, graders, mixer pumps, tower cranes, wheeled cranes, crawler cranes, construction hoists, winches, tower cranes, concrete mixers, concrete dump trucks, small equipment such as steel bar cutters, steel bar straighteners, hand-pushed concrete dump trucks, chain transfer trucks, etc.
Semi-trucks and heavy-duty trucks that meet HD OBD standard protocols. Let you easily start your first construction machinery vehicle diagnosis without complicated setup.
Enjoy lifetime free updates by connecting to WiFi. You will get reliable and professional product support from ANCEL's after-sales team through this function. Humanized Pin Detect: Allows you to measure the voltage of 16 PIN of the OBD diagnostic interface and evaluate the position of the pins of the K-line and the CAN -line. It gives you clues to solve the problem when you find that the scan tool is connected to the vehicle, but the communication between the device and the vehicle cannot be established successfully.
Enhanced Display Wiring Diagram: Allows you to diagnose the Cummins engine via a jumper or jumper box, eliminating the trouble of damaged and lost diagnostic cables. It definitely save a lot of troubles for the diagnosis work of auto repair technicians, auto repair shops, DIYers. Professional Data Management: Allows you to capture, view and save diagnostic reports, screenshots, and problem feedback files. Most of these files are created by performing toolbar operations on the vehicle diagnostic interface. No more worrying about data being forgotten or lost. Otherwise a Unpaid Item case will be opened to you. 12 months free repair for the devices.
60 days free return service. Select the reason for the return. If after 30 days, or the item has been used, we have the right to decline your claim. We are authorize distributor for many manufatcurers.
All items are 100% original. We have over 4 warehouses that are located in US.
We is mainly deals in various types of professional car diagnostics scanners and other car service maintenance tools. Passenger car scanner, Diesel Commercial scanner, Motorcycle scanner, Mile-agecorrection tool, Key programming tool , Smoke test, Electrical system probe test, Battery tester, injector cleaner etc. GMT8 (9:00-18:00) from Monday to Friday.