Heavy Duty Clothing Garment Rack Commercial Grade Clothe Rack with Wheels 3 Tier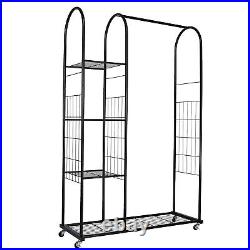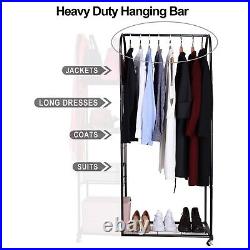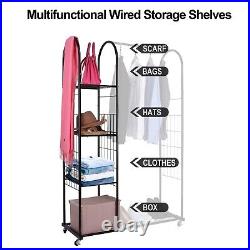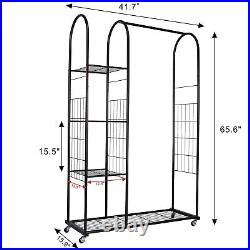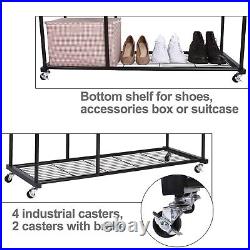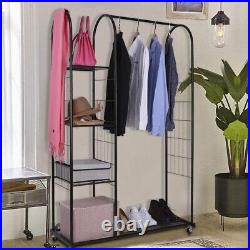 MYTHINGLOGIC HEAVY DUTY COMMERCIAL GRADE CLOTHING GARMENT RACK- OIL RUBBED BRONZE. This durable garment rack with wheels features an heavy duty hanging bar and 3-Tier storage shelves, this rolling clothing garment rack is the perfect choice for your hanging clothes and for storing items such as sweaters, hats, gloves, purses shoes and even totes.
Four heavy duty commercial wheels are included in the design allowing you to roll this freestanding clothing rack easily from room to room. Two wheels are equipped with brakes for secure placement at your desired location without unwanted movement. The big enough bottom shelf is provided for plenty of shoe storage.
It is perfect for use in a bedroom, laundry room, off season storage, closet, drying clothes or a shopping mall and showroom. It is the perfect fit for both domestic and commercial use. Mythinglogic metal clothes rack is a great solution for any room in your home.
Wheels: Four commercial wheels, two with brakes. Hanging bar load capacity: 22 lbs. ROLLING CLOSET WITH STURDY AND DURABLE STRUCTURE DESIGNED. This durable, wheeled garment rack features a heavy duty hanging bar and four tiers of storage shelves.
Overall Dimensions: 41.7" x 15.9" x 65.6 (LWH). Storage Shelves Dimensions: 12.6" x 13.8" X15.5'' (LWH). MORE DETAILS ABOUT GRAMENT RACK. Conveniently store folded garments and accessories alongside hanging clothes. This sturdy hanging rod holds up to 22 lbs.
It provides easy storage for hanging clothes and helps prevent creases. Bottom Shelf & 4 Industrial Casters. The generous bottom shelf provides plenty of shoe storage and an organized home for your shoes. Four industrial casters including two casters with brakes. Easy to move the garment rack to everywhere.