SuspensionMaxx Heavy Duty Sway Bar End Links With Leveling Kit for 06-18 Ram 1500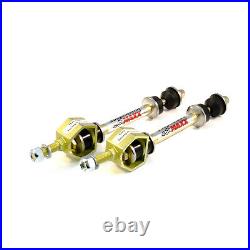 Leveled Length-8.25 Inch Top Of A-Arm To Center Of Sway Barsold In Pairs. Wear Prone Stock Ball Socket Is Replaced With A Long-Lasting, Simple and Robust Design. Thermoplastic/Urethane Bushings Perform Better and Last Longer Than Original Equipment Rubber Design. Maxxlinks Heavy Duty Sway Bar End Links Were Developed By The Innovators At SuspensionMaxx As An Extremely Durable, Cost Efficient and Long Lasting Solution For The Quick Wearing OEM End Links-Which Are Known To Have A Short Service Life.
The Maxxlinks End Link System Replaces The Wear Prone OEM Ball-In-Socket Style Link With A Simple and Robust High Quality Design. Maxxlinks Heavy Duty Sway Bar End Links Use Thermoplastic/Urethane Bushings To Perform Better and Last Longer Than The Original Equipment Ball-In-Socket Design. Eyelet Links Are Manufactured With Ultra-High Strength 4140 Treated Alloy Steel and Electroplated With Yellow Zinc Dichromate For Corrosion Resistance.
Maxxlinks Come Complete With Stainless Steel Washers and Locking Fasteners and Are Maintenance Free. Maxxlinks Can Be Used As High-Quality Replacement Parts Or As A Preventative Maintenance Measure. Maxxlinks Simply Bolt In Place.
SMX-1300 Measures 8.25 Inch From The Top Of The A-Arm To The Center Of The Sway Bar. Durable 4140 Alloy Steel Construction. Material 4140 treated alloy steel. Quantity Per Kit 2 Sway Bars.