Togu TG-6012 36 inches Solid Standoffs Heavy-Duty Commercial Grade-304 Stainl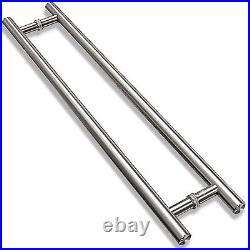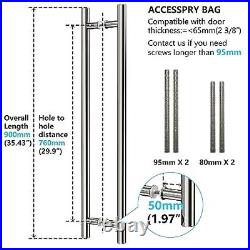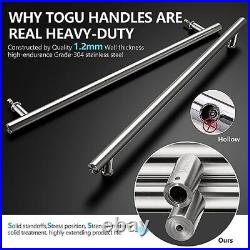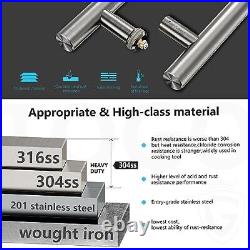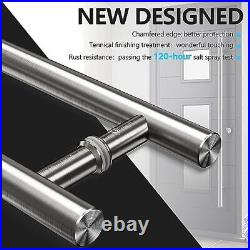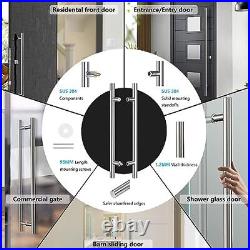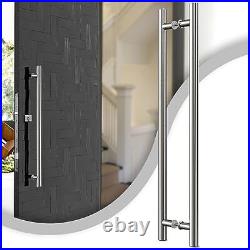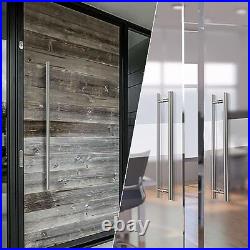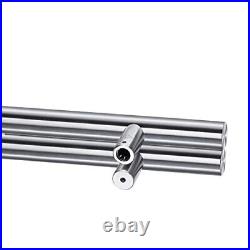 Brand: TOGU Handle Material: 1.2mm Wall Thickness Commercial Grade-304 Stainless Steel Mounting Outstandings and Fastening Screws Material: 100% Solid German Standard Commercial Grade-304 which will result in a very long durability and usage. Total length: 900mm / 35.433 inches Center-to-Center Mounting Distance: 760mm/29.921 inches Cross-Section Diameter: 32mm/1.26 inches Finish: Full Brushed Stainless Steel Door Type: Mountable on all types of doors including but not limited to glass and wooden doors, works up to 2.36 inches door thickness. For double doors, 2 pairs are required. Steps for Installation: Drill and create two end to end holes between 0.315 - 0.600 inches (0.375 is recommended) on the door with a Center-to-Center Mounting Distance. Use the Hexagonal Allen wrench to lose the hex socket set screws in the top and bottom pull connection base, remove apart the inner side and outer side of the door pulls. Put the inner side pull handle and outer side pull handle aligning at each other and tighten the 4 pieces of the hex socket set screws in the top and bottom pull connection base. This completes the installation process. TOGU TG-6012 series SUS 304 push pull handles feature a distinctive and durable structure with high ability of rust resistance, corrosion, and deformation for an everlasting lifespan without looseness, let every of your dollars have the highest cost performance.
HEAVY DUTY - Finished in perfect textured brushed/satin stainless steel with chamfered edges to avoid any unexpected accidental injury, TOGU TG-6012 36"/900mm size provides a door pull/handle length of 35.43"/900mm, hole to hole distance 29.92"/400mm, Solid mounting Standoffs Height 2.06"/52.4mm, Cross-Section Diameter 1.26/32mm. HASSLE-FREE INSTALLATION - The accessory pack with a clear instruction manual is offered in the package to finish the whole installation effortlessly. With a pair of 95mm/3.74" backup stainless steel 304 threaded bolts to fit most doors up to 70mm/2.756" thickness. If you need the long threaded bolts for your door thick up to 70mm/2.756, please send us a message.
We will send you the matching accessory kit for free. MULTI-SCENARIO USE - With a commercial comfortable touch and elegant, clean design, TOGU TG-6012 door handles can be used as front entry/entrance door handles, shower and store glass door pulls, super market and office interior/exterior entrance/entry door pull handles, and wooden barn sliding door pulls/handles to coordinate all modern decorations.
If you want to install back-to-back handles for French doors, 2 sets are required.